THE STADIUM SHOPPE

CenturyLink Field Gold Coin Photo Mint
All Teams Available!


2013 New England Patriots at Gillette Stadium Panoramic Poster
More Panoramic Posters


Bank of America Stadium Aerial Poster
All Teams Available!


Lucas Oil Field City Print
All Teams Available!


Sports Authority Field - Denver Broncos Signature Gridiron
All Teams Available!


Paul Brown Stadium - Cincinnati Bengals 3D Replica
All Teams Available!
MORE MERCHANDISE!
MOST POPULAR STADIUMS
IN NOVEMBER 2013
1. AT&T Stadium
2. Ford Field (10)
3. Lambeau Field
4. Superdome (8)
5. MetLife Stadium (6)
6. CenturyLink Field (9)
7. Arrowhead Stadium (2)
8. Candlestick Park (4)
9. FedEx Field (7)
10. Reliant Stadium (13)
Rankings based on site popularity

See NFL Games with TicketCity
GAME OF THE WEEK: WEEK 15

STADIUM NEWS

at

Baltimore Ravens at Detroit Lions
December 16, 2013 - 8:30PM ET - TICKETS

Ford Field - Detroit, MI

Vikings Ceremonially Break Ground on New Stadium


The 2½-year mission to build a $1 billion new home for the Minnesota Vikings ceremonially kicked off with a long-awaited groundbreaking outside the Metrodome. Two longtime project boosters — Gov. Mark Dayton and Minneapolis Mayor R.T. Rybak — were among the speakers at the under-the-tent event outside the doomed Dome. Team owners Zygi and Mark Wilf also attended, along with executives for HKS Inc., the stadium architect, and Mortenson Construction, the stadium builder, and star running back Adrian Peterson. "What a day," Zygi Wilf said to the gathering. "It was always our intention to bring a championship and a stadium" to Minnesota, he said. "We are embarking on our way to both." Wilf said the new stadium will "provide a tremendous game-day experience. … The fan experience has driven" the design of the stadium from the start, Wilf said.y kicked off Tuesday morning with a long-awaited groundbreaking outside the Metrodome.


-Events D.C. seeks consultant to study future of RFK Stadium


-

Thousands Line for seats from the Astrodome


-

Demand High for Iconic Metrodome Seats
| | |
| --- | --- |
| DID YOU KNOW? | In 1985, then Mayor of San Francisco, Diane Feinstein, proposed adding a dome to Candlestick Park. Instead $30 million was spent upgrading the scoreboard and adding more concessions and luxury suites to the stadium. |
STADIUMS OF PRO FOOTBALL FEATURES
Prepping the Field: Heinz Field - Pittsburgh Steelers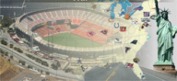 Ever wanted to take a trip to Lambeau Field or Cowboys Stadium, or perhaps a trip to all 31 NFL stadiums in one year? Our road trip guide outlines a plan that allows you to visit one stadium or every NFL stadium during the 2013 season!