Stadiums of Pro Football offers numerous ways to expose your business or products on our website. With your advertisement on this site, you can reach the thousands of people who visit our site daily. Numerous advertising opportunities exist from banner advertising to sidebar icons to text links. Feel free to contact us as we will work with you to get your ad up as soon as possible.
Advertising Rates:
Image button ads or text link ads can generally be placed anywhere on a page. Because of the layout of our pages, image based ads can vary in size. Image-based ads may be hosted on either your server or ours at no additional fee. Hosting the ad on your server will allow you to modify/update the ad as you see fit, as long as the graphic's filename and location remain constant. If hosted on our server, we are willing to change the ad for free periodically. Text ads can be changed free once a month.
Upon submitting the form you will be automatically returned to our homepage. We will contact you with more information about advertising on Stadiums of Pro Football.

Heinz Field City Print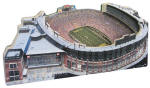 Lambeau Field 3D Stadium Replica


Cowboys Stadium Aerial Poster


New England Patriots at Gillette Stadium Panorama Poster
---
Other NFL Stadium It

ems