LUCAS OIL STADIUM MERCHANDISE
Lucas Oil Stadium Photo Mint


Lucas Oil Stadium City Print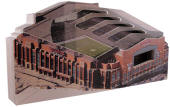 Lucas Oil Stadium 3D Stadium Replica

2013 Indianapolis Colts, Lucas Oil Stadium Signature Collection Poster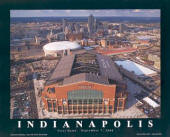 Aerial of Lucas Oil Stadium Poster

Lucas Oil Stadium Poster

Lucas Oil Stadium Poster

Indianapolis Colts
Helmet Statue
---
More Lucas Oil Stadium Items
Other NFL Stadium Items
LUCAS OIL STADIUM

INDIANAPOLIS, IN

With it's classic red-brown exterior trimmed with limestone and fieldhouse look, Lucas Oil Stadium breaks away from the current mold of NFL stadiums and is a huge upgrade from the Colts previous home, the RCA Dome. Like nearly every other team in the NFL during the time, the Colts wanted a new stadium to replace the RCA Dome, as it was one of the smallest stadiums in the NFL and lacked luxury suites and club seats. In December 2004, the Colts and the City of Indianapolis agreed to construct a new $720 million stadium for the team. The Colts paid $100 million of the total cost and the remaining funding came from the State of Indiana and the City of Indianapolis through increased taxes on food and beverages. On September 20, 2005 construction began on the stadium, adjacent to the Colts former home, the RCA Dome. In March 2006, Lucas Oil Products bought the naming rights to the stadium for $120 million over 20 years. Prior to the announcement of a new stadium, there had been talk of the Colts possibly moving to Los Angeles, but now they will remain in Indianapolis for years to come.

The Colts played their first regular season game at Lucas Oil Stadium on September 7, 2008 against the Chicago Bears. Located in downtown Indianapolis, the stadium features a retractable roof that allows the Colts to play outside for the first time since the team moved to Indianapolis from Baltimore. On the outside, the stadium has a facade of brick and glass allowing it to blend with the surrounding buildings. Lucas Oil Stadium has seating for 63,000 fans that is expandable to seat 70,000 for larger events. The Fieldturf playing field is 25 feet below street level allowing fans easy access to their seats. Many modern amenities are found throughout the stadium from the high definition replay/scoreboards to the 150 luxury suites. Lucas Oil Stadium has one of the largest videoboards in the NFL. Consisting of three screens each, the 97-foot-wide-by-nearly-53-foot-high scoreboards hang in the northwest and southeast corners of the building. Aside from serving as the home of the Colts, the stadium hosted the NCAA Basketball March Madness Tournaments in 2009, 2010 and 2011, and will serve as the permanent back up host for the Final Four Tournament. It was the site of Super Bowl XLVI on February 5, 2012 as the New York Giants beat the New England Patriots.

FACTS & FIGURES

-Tenant:

Indianapolis Colts


-Capacity: 63,000
-Surface: Fieldturf
-Opened: September 7, 2008
-Naming Rights: Lucas Oil, $122 Million/20 years
-Architect: HKS
-Cost: $720 Million
-Public Financing: 85%
-Private Financing: 15%
-Directions & Parking
-Seating Chart
-Gameday Reviews

2014 COLTS SCHEDULE

Indianapolis Colts

at

Denver Broncos


Sports Authority Field
September 7, 2014 - 8:30PM ET - TICKETS

-9/7 - at Denver
-9/15 - PHILADELPHIA
-9/21 - at Jacksonville
-9/28 - TENNESSEE
-10/5 - BALTIMORE
-10/9 - at Houston
-10/19 - CINCINNATI
-10/26 - at Pittsburgh
-11/3 - at NY Giants
-11/16 - NEW ENGLAND
-11/23 - JACKSONVILLE
-11/30 - WASHINGTON
-12/7 - at Cleveland
-12/14 - HOUSTON
-12/21 - at Dallas
-12/28 - at Tennessee

MAP & DIRECTIONS TO LUCAS OIL STADIUM

Address: West South Street, Indianapolis, IN 46225

PARKING NEAR LUCAS OIL STADIUM

HOTELS NEAR LUCAS OIL STADIUM
LUCAS OIL STADIUM PICTURES




Click to Enlarge Pictures

INDIANAPOLIS COLTS MERCHANDISE

MEMORABLE MOMENTS
IN COLTS HISTORY

Super Bowl Championships: 2006

AFC Championships: 2006, '09

Erik Dickerson rushes for 1,311 yards in 1989.

QB Peyton Manning passes 49 touchdowns and wins NFL MVP in 2004.

Edgerrin James wins 1999 Offensive Rookie of the Year.