GEORGIA DOME MERCHANDISE

Georgia Dome Panoramic PhotoMint

Georgia Dome PhotoMint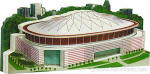 Georgia Dome 3D Stadium Replica


Georgia Dome City Print


2014 Atlanta Falcons, Georgia Dome Signature Collection Poster


Georgia Dome Poster


Georgia Dome Atlanta Falcons Poster


Atlanta Falcons
Helmet Statue
---
More Georgia Dome Items
Other NFL Stadium Items
GEORGIA DOME

ATLANTA, GA

Home of the Atlanta Falcons since 1992, the Georgia Dome is the worlds largest cable supported stadium. Since the team's inception in 1966, the Falcons had played at Atlanta Fulton County Stadium, a multipurpose stadium that was also home of the Atlanta Braves (MLB). As early as November 1983, the owner of the Falcons, Rankin Smith, wanted a new stadium for the Falcons. Two years later Atlanta businessmen joined efforts with city and county officials to obtain funding for a new stadium. Discussions were slow, with some officials suggesting that Atlanta Fulton County Stadium be renovated. Smith viewed this plan as unacceptable and threatened to move the Falcons to Jacksonville. By 1988, talks intensified about building a new stadium, and in 1989, approval finally came from the state, the Atlanta City Council and Fulton County Commission to build a domed stadium. Ground breaking ceremonies occurred on November 22, 1989 and the Georgia Dome was completed by the start of the 1992 NFL season.

The Falcons played their first game at the Georgia Dome on September 6, 1992 when over 70,000 fans filled the stadium. Three tiers of seats circle the entire gridiron. Every seat from the lower to the upper deck has a great view of the field. The roof is made of Teflon and fiberglass. The Georgia Dome has many amenities including several food courts, the In-Zone Restaurant, Kickers Sports Bar, Millers Lodge, over 4,600 club seats and 164 luxury suites. After the 2002 season, the surface of the Georgia Dome was changed from Astroturf to Fieldturf. In 2006, a $30 million renovation plan was approved to upgrade the Georgia Dome. Luxuries areas were updated, eight new super-suites were created and new LED ribbon-boards were installed. Before the 2008 season all of the original teal seats were replaced with new red and black seats, the facade was repainted, concourses were upgraded and new High-Definition videoboards were installed. The Georgia Dome has hosted Super Bowls XXXIV in 1994 and XXVIII in 2000. It also hosted several Olympic events in 1996, was the home of the Atlanta Hawks (NBA) in 1998-'99, and hosted the NCAA Men's Final Four in 2003 and 2007. Each year the Georgia Dome is home to the SEC Football Championship and the Chick-fil-A Bowl. In 2011 the Falcons announced plans that they would begin exploring options of building a new stadium. The team wants a new stadium because they believe the Georgia Dome does not provide premium seating and other amenities found in recently built NFL stadiums. In December 2012 the Georgia World Congress Center Authority (GWCCA) board approved terms for a new $947.7 Atlanta Falcons stadium to open in 2017. All events held at the Georgia Dome will move to the new stadium and the Georgia Dome will be demolished.




FACTS & FIGURES

-Tenant: Atlanta Falcons
-Capacity: 71,228
-Surface: Fieldturf
-Opened: September 6, 1992
-Naming Rights: None
-Cost:

$214 Million

-Public Financing: 77%
-Private Financing: 23%
-Directions & Parking
-Seating Chart
-Gameday Reviews

2014 FALCONS SCHEDULE

New Orleans Saints at Atlanta Falcons
Georgia Dome
September 7, 2014 - 1:00PM - TICKETS

-9/7 - NEW ORLEANS
-9/14 - at Cincinnati
-9/18 - TAMPA BAY
-9/28 - at Minnesota
-10/5 - at NY Giants
-10/12 - CHICAGO
-10/19 - at Baltimore
-10/26 - DETROIT (Wembley Stadium)
-11/9 - at Tampa Bay
-11/16 - at Carolina
-11/23 - CLEVELAND
-11/30 - ARIZONA
-12/8 - at Green Bay
-12/14 - PITTSBURGH
-12/21 - at New Orleans
-12/28 - CAROLINA

MAP & DIRECTIONS TO THE GEORGIA DOME

Address: One Georgia Dome Drive, Atlanta, GA 30313

PARKING NEAR THE GEORGIA DOME

HOTELS NEAR THE GEORGIA DOME
GEORGIA DOME PICTURES




Click to Enlarge Pictures

ATLANTA FALCONS MERCHANDISE




Falcons at the Georgia Dome Panorama Poster




"End Zone" Atlanta Falcons Panoramic Poster - NEW 2012!

MORE FALCONS MERCHANDISE

MEMORABLE MOMENTS
IN FALCONS HISTORY

NFC Championships: 1998

Retired Numbers: 10-Steve Bartkowski, 31-William Andrews, 57-Jeff Van Note, 58-Jessie Tuggle, 60-Tommy Nobis, 78-Mike Kenn, 87-Claude Humphrey

Offensive Rookie of the Year Matt Ryan in 2008.

Coaches of the Year Dan Reeves (1998) and Mike Smith (2008).